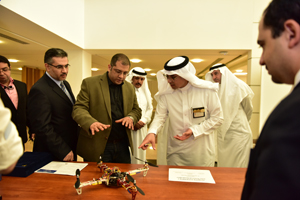 In compliance with the Saudi Law of Ethics of Research on Living Creatures, Alfaisal University has established and registered a local ethics committee, or an Institutional Review Board (IRB), that grants licensing for conducting research and monitoring research ethics in accordance with provisions of the Law of Ethics of Research on Living Creatures and its Regulations.


Mission
The mandate of Alfaisal IRB is to license or grant ethical approvals to all research projects involving living creatures (i.e. humans, animals, or plants), conducted at Alfaisal including surveys, questionnaires and interviews.
Vision
Ensuring that the researcher and research staff comply with controls, procedures and provisions set forth in the Law and its Regulations as well as decisions of the National Committee of BioEthics (NCBE).
For more information…
Implementing Regulations of the Law of Ethics of Research on Living Creatures by National Committee of
BioEthics (NCBE)