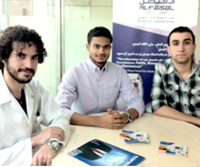 Boeing has taken the initiative to annually support student research at Alfaisal University through competitive awards. Alfaisal University has the support of national and international co-founders and distinguished Board Members such as provided by Boeing that have continually supported the university in its mission to be a student –centred institution committed to research. The funding provided by Boeing aids in the building of a strong research oriented institution as envisaged by the King Faisal Foundation.

The President of Boeing Saudi Arabia, Eng. Ahmed Jazzar, handed over a check for $50,000 USD to the Alfaisal University Provost, Dr Faisal Al Mubarak on Sunday 10 November 2013. Five student research projects from the College of Medicine & College of Engineering were funded by the company. The research funds are administered by the Office of Research & Graduate Studies with general oversight provided by the Research & Graduate Studies Council at Alfaisal University.

The University is extremely thankful to Boeing for taking the initiative to support student research. This is the first year that Alfaisal University has had this competition. The Institution can be very proud of the high quality of our students and the initiatives taking by them to help address areas of strategic concern faced by the country.