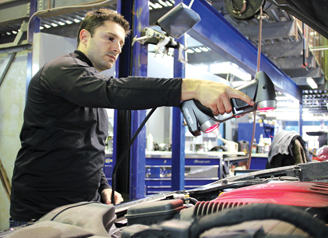 The Product Design and Development Unit (PDDU) at Alfaisal University is pleased to announce a 30 hours course on "CATIA V5 Mechanical Design Fundamentals certification" in Riyadh, Saudi Arabia. The course will be led by two highly qualified and experienced instructors.

Dates: From Sunday to Thursday (9:00 AM – 3:00 PM), Starting October 14th, 2018 to September 18th, 2018.
Location: Alfaisal University Campus, Riyadh (Takatsuki Street).
Cost: Student fees 3,750 SAR (after apply 25% discount) price without discount 5,000 SAR.


Course Objective
The CATIA V5 Fundamentals course is designed to provide delegates with a broad skill set for using CATIA V5. It is a starting point for CATIA and the knowledge gained is a prerequisite for many more specialized training courses. CATIA V5 Fundamentals should not be viewed as just a basic course, as together with the key CATIA skills that are on offer, the student will also pick up very important advice on engineering methodologies. The course includes a mixture of presentation and tutorial, enabling students to gain hands-on experience.
Mechanical Design Fundamentals certification Content
Introduction to CATIA
Introduction to CATIA
Profile Creation
Basic Features
Additional Part Features
Dress-up Features
Reusing Data
Finalizing Design Intent
Assembly Design
Designing in Context
Drafting (ISO)
Who Should Attend?
New CATIA V5 Mechanical Designers. A working knowledge of other 2D/3D packages would be advantageous.
Instructor Profiles:
Engineer Abdurhman Issa:
Industrial solution provider for 5 years, he has experience in design, quality inspection, reverse engineering, and product lifecycle management projects in several industries like aerospace, automotive, and industrial equipment. He uses Dassault Systems product Catia almost on a daily basis.
Engineer Rania Mohamed Amin:
Motivated applications engineer (Mechanical Design & Realistic Simulation), she is studying Master of Aerospace & Aeronautics with specialization design and analysis aircraft structures. She has a full scholarship from United States of America Department to participate in International Visitor Leadership Program (IVLP) for makers women in USA science fall, 2017. In addition, Eng. Rania already certified instructor and certified on CATIA-V5 from Dassault Systemes.