Master of Business Administration (MBA)
Director of Graduate Business Programs: Dr. Jan Smolarski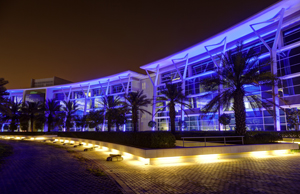 With the support of the King Faisal Foundation (KFF), the MBA program was approved by the Ministry of Higher Education in July 2010. The primary objective of the program is to provide graduate students in the Kingdom of Saudi Arabia with a world-class MBA education.
MBA classes are held in the evenings and we accept both men and women. The typical candidate profiles for our program include:
Working professionals that want to improve their general business knowledge and develop collaborative business networks.
Individuals who want to enhance their careers and develop their leadership potential and abilities.
Men and women who want to transition from their current positions into general management roles.
Entrepreneurs who are keen to start new businesses or nurture and grow existing companies.
Men and women in the early stages of their careers who want to improve their knowledge of business and management disciplines and enhance their future career prospects.
The MBA program consists of 42 credit hours and is dedicated to providing professionals with maximum flexibility during their busy working schedules. The program is typically completed within 24 to 36 months and is delivered weekday evenings from 6:00 pm to 9:00 pm.
Our Vision
We aim to be the first choice of professionals striving to be business leaders.
Our Mission
Our mission is to develop world-class managerial knowledge, skills and ethics necessary to have a sustainable impact on business and society.
MBA Concentrations
With an MBA degree, Alfaisal University offers several concentrations designed to meet the specific needs of the KSA business community. All of our MBA programs require the same eight core courses plus a minimum of six elective courses. Completing the core and the specified electives allow students to graduate with a general degree or with a concentration in either Finance or Healthcare Management. We also offer a rich set of electives, which may be taken by any enrolled student, as long as the prerequisite is met.
MBA Tracks
Admission Criteria
Within the broader framework of AU's admission policies and procedures, the College of Business sets the application criteria for the MBA program; and then recommends approval for admissions to the Research & Graduate Studies Council (RGC). All applicants for admission to the College of Business MBA program are required to have:
A bachelor's degree or recognized equivalent from an accredited institution accepted by The Ministry of Education (MOE) in related field.
A satisfactory scholastic average; a minimum grade average of "good" in the Bachelor degree.
Above average GMAT, GRE score or an equivalent Graduate Quadrat Exam held by Qiyas Centre.
If the applicant comes from a country or political entity where English is not the official language adequate proficiency in English to do graduate work, as evidenced by:
A. IELTS: Band score of at least 6
B. Or, TOEFL Band score of at least 70

Minimum One year of Professional work experience in related field.
Applicant should provide two letters of recommendations from professors who taught or from a manager at the workplace in the interview time.
On-campus Interview
The graduate study application must be accompanied by a non-refundable application fee payable to Alfaisal University; which is equal to SAR 500.
No Student shall be allowed enrolment in two graduate programs at Alfaisal at the same time.
Pre-MBA Requirements: Applicants with backgrounds other than Business Administration may be required to complete one or two pre-MBA courses. This will be determined after the face-to-face interview.
Students must provide a statement of purpose describing their academic interests and reasons for applying at the interview time.
All applicants are required to submit online applications via the Alfaisal University website (
https://research.alfaisal.edu/freshman
). These are received by the Office of Graduate Studies and Research, who forward them to the College of Business where your application is reviewed.
Why Pursue an Alfaisal University MBA?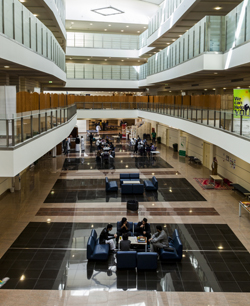 Globalization brings countless economic opportunities and social challenges. The Alfaisal University College of Business MBA degree provides students with the theoretical knowledge and practical skills needed to take advantage of career opportunities and deal effectively and responsibly with complex business challenges. Global and regional organizations require their managers and leaders to have a variety of technical and interpersonal skills. Such organizations look to leading universities to supply them with MBA graduates who have exceptional business knowledge and talent. Whether your goal is to progress within your organization, to switch careers, or to create a new business, the Alfaisal University MBA will provide you with the skills and qualifications needed to realize these objectives and to better serve your organization, your community, and your nation.
Excellence in Education
The Alfaisal University College of Business is committed to offering the best standards in graduate management education in the KSA and the region. We are committed to recruiting experienced and well-qualified teaching and research faculty that have demonstrated excellence in MBA education and academic inquiry. We have implemented a rigorous Quality of Learning Assurance policy for the MBA program, including course evaluations and student feedback. The College of Business is committed to such standards, initiatives, and policies, and it differentiates us from other local MBA providers and enable us to deliver the highest quality MBA education in the KSA.
Classroom Experience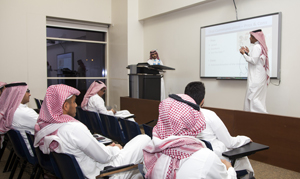 When learning something new, a supportive mentor or an inspirational teacher is invaluable. However, in any organizational or educational setting, an exceptional teacher and mentor is only one part of the overall learning experience. Your own personal aptitudes, abilities, experiences, leadership qualities and people management skills, as well as your current strengths and limitations as a manager, are also important. Knowing what you want to achieve and how you will achieve it is paramount to success. The purpose of the Alfaisal MBA program is to support your side of the learning equation theoretically, practically, and personally. To help achieve your goals and develop your skills, all MBA courses involve individual and collaborative work, interactive classroom discussions on contemporary business issues, and a variety of assignments, cases, projects, tests, and examinations to help you build and consolidate your learning experience. Our primary focus is to provide you with an optimal learning experience and with opportunities to grow as a manager and leader in your organization and community.
International Study Trips
In an era of globalization, exposure to business and management practices in other countries and cultures form an important part of the MBA learning experience. The College of Business offers international study trips for MBA students each year. For more information on Alfaisal International Study Trips.
More...
For detailed admission requirements and how to apply, please visit the below link
CLICK HERE