International Study trips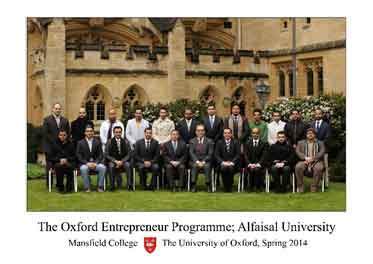 In Alfaisal MBA programs, we offer International Study Trips for each cohort. Each year participating students travel to an international destination to learn first-hand from executives and managers, as well as internationally renowned faculty. These trips are designed to give our students additional exposure to international business practices, particularly as they relate to emerging markets. International study trip course includes a one-week trip where students follow lectures at a top Business School and/or visit local companies and cultural events. They gain valuable insights about the challenges, distinctive business practices, management principles and success factors that they will encounter in a global business setting. The trips expose students to the global business environment, so that they can understand how fast-growing economies in developing countries provide opportunities for businesses. While there are a number of academic objectives for the international study trips, they are also a lot of fun and provide touristic opportunities for the cohort. Such trips enables students to learn from business executives and ask candid questions about growth, strategy, operations, and cultural differences. The company visits enable students to apply what they have learned in their MBA program directly to the companies that are visited.
Past study tours
Nyenrode Business University in the Netherlands (2015)
During the summer, a group of MBA students completed an "effective team leadership" programme at Nyenrode Business University in the Netherlands. International business coaches and faculty from Nyenrode worked with our students on key team leadership requirements and skills, such as; Self-management, emotional intelligence requirements of team leadership, Coaching skills, Contextual analysis, Work team cooperation, and Practical work team leadership practice.
Istanbul, Turkey (2015)
During the Spring break in March, a group of MBA students worked with academics from various universities in Istanbul to explore the impact of changes in the national context on global economic development. This was part of an elective course on Comparative Management that started in Riyadh by studying the historical interaction between Saudi Arabia and Turkey. Turkey was the ideal context to study the impact of historic national and international changes on economic development. This country is now one of the top 20 economies in the world, while it went through two major historical periods of change which are still clearly visible throughout the city and the community.
Ashridge Business School, Berkhamsted, Hertfordshire, UK (2014)
The Ashridge Powerful Leadership programme was a bespoke course developed exclusively for Alfaisal MBA students. The purpose of the course was to develop practical knowledge, skills, and attributes required for leadership success within a competitive global environment. The methodologies used during the course were accelerated learning and experiential learning. These methods are proven to affect mind-set, increase learning retention, and promote lasting behavioural change. The course explored and applied the four core elements of emotional intelligence (self-awareness, self-management, social awareness and relationship management) to develop and sustain personal leadership mind-sets and behaviours.
Mansfield College & Saeed School of Business-Oxford (2014)
The purpose of the course is to provide the MBA students with an international context and awareness of the latest innovations in management and its different practices. The effective graduate of the MBA program at CoB must have a global perspective of the world commerce and of the complex issues, practices, and expectations of managing the enterprise in the 21st century. As one of the epic centres of knowledge, Oxford, serves as a perfect venue to connect with world-class thinkers and practitioners to accomplish this task. So Course Mission is to provide students with a memorable and lasting experience that not only captures the mystique of Oxford, but inspires students to strengthen their quest for knowledge and excellence in management innovations and in their careers. As poet William Butler Yeats proclaimed, "I wonder anybody does anything at Oxford but dream and remember, the place is so beautiful". Indeed, you will remember this experience.
Boise State University, Idaho. United States (2011)
This trip was all about Creativity and Entrepreneurship, which was a unique international experience for Alfaisal University MBAs. Typically, MBA Programs have a significant international student mix. Unfortunately, for various reasons, the Kingdom's MBA Programs are almost exclusively Saudi nationals. For this reason, Alfaisal University's College of Business strongly endorsed international graduate experiences such as this Idaho trip. The USA trip included 5 and ½ days of continual learning. It included two visits two American business start-ups. Several significant business executives talked to the MBAs, including the CEO for US National Bank and Boeing, Inc. from Seattle. The MBAs were organized in teams of five and will work with a US MBA. This active learning experience with Saudi and US MBAs, American faculty, and business professionals was a unique learning opportunity.