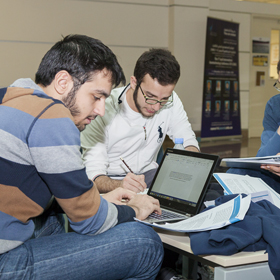 Students coming from outside the Kingdom of Saudi Arabia
Alfaisal University welcomes international students from outside the Kingdom of Saudi Arabia.

If you are applying to Alfaisal University and you currently do not reside in the Kingdom, you must meet the following requirements for the University to issue your Student Visa:
Your Certificates & Transcripts must be certified by the Saudi Embassy in the country of your study.
Your Certificates & Transcripts must be evaluated & certified by the Saudi Ministry of Education.
You must pay the non-refundable seat confirmation fee of SR 500.
* Please note that the University does not guarantee the issuance of your Student Visa but will help to facilitate the process of its issuance.
Step- 1 Admission Pre-Requisites
Pay (non-refundable) 500 SAR as admissions fee and prepare electronic/scanned receipt:

Bank Details
Saudi British Bank (SABB)
Alfaisal University
Account Number: 154 000 111 002
IBAN Number: SA39 4500 0000 1540 0011 1002


Prepare a scanned copy for all the required documents found here:
Please make sure that the file names are in English only
For tips on how to scan paper Click Here
Step 2-Submit Application
Sign up for a new account using a valid email address so you can be able to complete the process. All notifications will be communicated via email messages.
Complete the online Admission's application.


Apply Now