Reverse Engineering and Inspection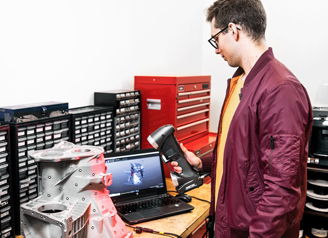 The Product Design and Development Unit (PDDU) at Alfaisal University is pleased to announce a 60 hours short course on "Reverse Engineering and Inspection" in Riyadh, Saudi Arabia. The course will be led by two highly qualified and experienced instructors

Dates: From Sunday to Thursday (9:00 AM – 3:00 PM), Starting September 30th, 2018 to October 11th, 2018.
Location: Alfaisal University Campus, Riyadh (Takatsuki Street).
Cost:Student fees 7,000 SAR (after apply 30% discount) price without discount 10,000 SAR


What is Reverse Engineering?
Reverse engineering, also called back engineering, is the process by which a man-made object is deconstructed to reveal its designs, architecture, or to extract knowledge from the object; similar to scientific research, the only difference being that scientific research is about a natural phenomenon. Reverse engineering is applicable in the fields of mechanical engineering, electronic engineering, software engineering, chemical engineering, and systems biology. Reverse engineering is commonly used as a learning tool, as a way to make new comparable products that are cheaper than what is currently on the market, for making software operate more effectively or to bridge different operating systems or databases.
Short Course Program
This course is fully designed for the Saudi market in reverse engineering and provides you with the skills and knowledge needed for your surface reconstruction projects, whether for analysis or manufacturing purposes. Hands-on sessions are included to ensure that training is adapted to your application and to rapidly identify participants' strengths and areas needing improvement. Subjects covered include:
3D scanning on Creaform HANDYScan 700
Introduction about the Creaform and HandyScan700.
Calibrating the scanner to the surrounding environment.
Configure the scanner sensors according to the part.
Creating The Positioning Model
How to place targets on the part and create the reference.
How to perform a correct scanning session.
Saving Acquired Data
Saving different available data.
Additional Functions
VXelemt basic options
How to merge different meshes together.
Hands-on session on Costumers Parts
Reverse engineering using VXModel
Introduction how to VXmodel and installation.
How to navigate the software interface.
How to select features from the Mesh.
Aligning different meshes together and removing unwanted areas.
Improve the quality of the mesh
How to transfer the extracted data to your CAD software.
Hands-on Session
Dimensional Inspection & inspection reporting using VXinspect
Introduction about VXinspect and inspection process.
Importing the CAD data.
Importing the Mesh.
How to align the CAD with the Mesh.
How to inspect entities.
How to create reports that meets your requirements.
How to inspect multiple parts with the same inspection process.
Instructors Profile
Engineer Abdurhman Issa
Industrial solution provider for 5 years, he has experience in design, quality inspection, reverse engineering, and product lifecycle management projects in several industries like aerospace, automotive, and industrial equipment and I use Dassault Systems product Catia almost on a daily basis.
Engineer Rania Mohamed Amin
Motivated applications engineer (Mechanical Design & Realistic Simulation), she is studying Master of Aerospace & Aeronautics with specialization design and analysis aircraft structures. She has a full scholarship from United States of America Department to participate in International Visitor Leadership Program (IVLP) for makers women in USA science fall, 2017. In addition, Eng. Rania already certified instructor and certified on CATIA-V5 from Dassault Systemes